WELCOME TO COM TEC PRINTING & GRAPHICS!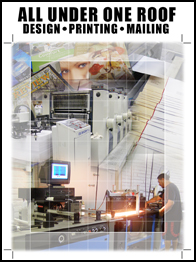 We are excited to have you take a look at our website!
COM TEC'S mission is to provide you with "COMMUNICATION SOLUTIONS THROUGH TECHNOLOGY". As the slogan implies, we don't just "do" printing. Our goal is to be your total solution for business communication.
Our staff is encouraged to "THINK OUTSIDE OF THE BOX". We use a variety of technologies to exceed our customers' expectations, from concept development to finished product. Our customers like doing business with us because we care about their success; not just ours!
We always welcome a personal tour of our facility. In the meantime, this site lets us do business with you 24/7.
To learn more about COM TEC, please browse through our Company Information section. Thanks for your time and enjoy your tour. Let us know if there is anything we can do to improve this site or our service to you.
Craig and Lorrie Culloton, Owners, COM TEC Printing & Graphics, Inc.